Honoring Our Finest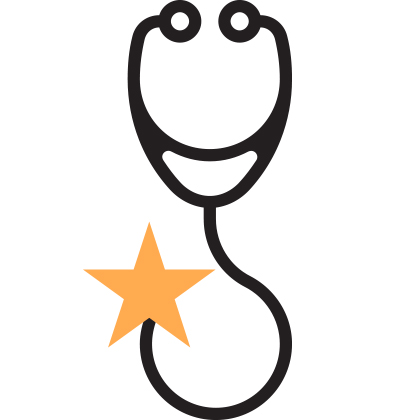 What do great doctors do that other doctors don't? This issue is at the heart of our mission at the Center for Innovative Medicine; in fact, it's what got us started. We talk a lot about the Miller and Coulson families here, but if you're new to the CIM you may not realize that it was a patient, Mrs. Anne Miller, who asked David Hellmann more than a decade ago, "Why aren't there more doctors like Phil Tumulty?" Philip Tumulty was a legendary clinician at Johns Hopkins, an astute diagnostician who was not only excellent at what he did, but whose compassion and empathy for his patients created deep bonds that have continued to this day.
Hellmann, a master clinician himself, took this question very seriously; in fact, he had already been thinking for a long time about how to help doctors become better clinicians, and to care more. He began our Good Doctor Initiative with the idea that helping young physicians at a very hectic period in their lives – when they have less time than ever to spend with their patients, and when technology can seem to intrude more than to bring doctors and patients closer together – to get to know the patient as a person would make them better doctors. With support from the Miller and Coulson families, the CIM began the Miller-Coulson Academy as the first of its kind – an objective and rigorously peer-reviewed way to honor and reward doctors who are excellent clinicians and teachers. This has been particularly meaningful to us because academic medicine tends to reward people who publish scientific papers and bring in grant money, and this way of thinking does not similarly reward doctors who are "just" excellent clinicians. In an increasing way, the formation of the Academy has been "the shot heard round the world" in academic medicine, leading an international conversation about recognizing, promoting, encouraging, and rewarding the Phil Tumultys of our world.
Three years ago, the Academy expanded to Johns Hopkins Hospital, and added the annual Frank L. Coulson Award for Clinical Excellence to outstanding doctors-in-training in all 20 Hopkins residency programs. It began a coaching program, named in honor of the late G. Thomas Miller, with master clinicians mentoring new faculty. And last year, the first time, the Academy recognized clinically excellent Nurse Practitioners and Physician Assistants. "The Academy keeps growing in important and exciting ways," says its director, Scott Wright, M.D. Dean Paul Rothman has asked Wright and the Academy to work with the Promotions Committee to help the institution recognize clinical excellence in its promotions criteria.
This year, as we honor the Inductees into the Academy and the award winners, we thought you might like to hear what one of them has to say about being a good doctor. You will get to know more Miller-Coulson Academy members on these pages in future issues, as well. They are amazing people.
ON REBUILDING AND HEALING
One of our newest inductees, Michele Manahan, M.D., is a plastic surgeon. Although her practice includes "performing aesthetic and reconstructive surgery on all parts of the body to restore form and function," her focus is on breast reconstruction in women who have had breast tumors.
Rebuilding part or all of a breast takes longer than you might think. It can require multiple operations spaced out over many months, and often involves use of implants or the patient's own body tissue – from places where there might be some to spare, like the lower abdomen, buttocks, thighs, or back – in meticulous work to create more natural-looking breasts. "Implants do not require surgery in other parts of the body beyond the affected breast, but they may need maintenance in years to come," she explains. "Using the patient's own tissue takes longer to heal and is more complex," but it can last a lifetime.
"We start talking about the ways we can come out on the other side – being whole, and healthy and happy."
The physical rebuilding is just one part of her job. "Nobody wants to see us at all for breast reconstruction," she says. "It would be much better if we never had to face that problem." But the women do, and Manahan and her team are right there with them, caring, listening, doing their best to give hope and reassurance. "We really get to know our patients well," often soon after cancer is diagnosed. "We start talking about the ways we can come out on the other side – being whole, and healthy and happy, and we continue with them long-term."
Many women come to Manahan feeling overwhelmed, scared, trying to process what's happening to them, and dealing with a lot of information, "from us, surgical oncology, medical oncology, and radiation oncology. It can be a flood." Manahan works to provide a framework, with the details of each step laid out. "Yes, there are a lot of steps, but if we put one foot in front of the other, pretty soon we find that we're on the other end of the whole process." She and the team find themselves missing their patients "when they don't need to see us so frequently any more, because we grow so close to them."
Manahan has seen women in their teens, women in their nineties, and all ages in between. "It's really a range," she says. "If one in eight women has breast cancer – if it's not going to be ourselves, it will be one of our close friends or family members. We're all in the same boat."
Sometimes, one of her former patients will come back to the clinic accompanying a newly diagnosed friend or relative. "It's wonderful. Now she's stepping outside her own illness to help support someone else," Manahan says, "to share early on that there is hope."
BACK TO TOP