An Impactful Career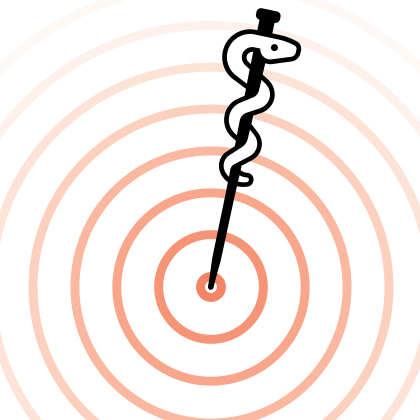 In her 35 years serving on the faculty and as an administrative leader for the Johns Hopkins University School of Medicine, Cynthia Rand has adeptly led some of the institution's most important initiatives — from co-directing the Aliki Initiative (with Roy Ziegelstein), to laying the groundwork for the new school of medicine clinical excellence faculty promotion track, to guiding key mentoring efforts for junior faculty, to establishing the Academy at Johns Hopkins for retired faculty members.
"I often refer to Cindy as the smartest person in the room, and she has tapped into that wisdom to lead critical change efforts here at Johns Hopkins," says CIM Director David Hellmann. "Quietly and without fanfare, she has left her fingerprints on so many important areas."
Most recently, Rand has stepped up to co-lead the CIM's new Initiative to Humanize Medicine, together with internist Mary Catherine Beach. The ambitious new initiative will unite researchers from disciplines and divisions across Johns Hopkins University in a far-reaching and systematic effort to better equip clinicians to get to know their patients as individuals.
We sat down recently with Rand, senior associate dean for faculty at the school of medicine, and asked her to reflect on some of the highlights of her far-reaching and impactful career at Johns Hopkins.
You've received a number of notable awards for mentoring. Why is mentoring so important to you — and to Johns Hopkins as an organization?
Academic medicine is a very challenging environment in which to build a career. And it's crucial to junior faculty coming up through the ranks to have a cheerleader. I can't tell you how many times a young faculty member I am mentoring quietly shares with me that they feel like an imposter — that they're nowhere near as good as their colleagues. I can assure them that they're not alone, that about 700 of their peers feel exactly the same way.
Having the sponsorship of a more senior faculty member is hugely important for younger faculty to advance, for building bridges and opening doors. For those of us who have been around Johns Hopkins forever, we know the landscape and where the opportunities lie. So, if in a casual conversation, a young faculty member mentions a promising idea or area of interest, it's very easy for me to send an email to connect them to someone doing work in that area. These types of connections are crucial for moving their careers forward.
Is mentoring particularly important for those who haven't traditionally had strong representation in leadership, such as women and those in groups under-represented in medicine?
Yes, for sure. My first significant leadership role was chairing the Department of Medicine Women's Task Force, which I had joined early in my Hopkins career because of my passion for advancing the careers of women in medicine. At that time, it was rare to have women in positions of leadership, and faculty of color were virtually non-existent as leaders. That was such a great loss to the organization — to have such a singularly white, male perspective guiding everything.
Over time, Johns Hopkins has made a commitment to hiring and advancing the careers of more diverse faculty members — though, of course, there remains room for improvement. This has led to new, richer perspectives across the organization and created a much better environment for mentoring for women and those under-represented in medicine. They can look around now and see a community of leaders who look like them — who provide living examples of how to advance in academic medicine.
"Having the sponsorship of a more senior faculty member is hugely important for younger faculty to advance, for building bridges and opening doors." — Cynthia Rand
Last fall, you were honored with the second annual Award for the Support of Clinical Excellence at the Miller Coulson Excellence in Patient Care Symposium, for guiding implementation of the new clinical excellence promotion track for faculty. How is the promotions track the culmination of years of work by you and others?
The groundwork for defining and quantifying clinical excellence was laid when the Center for Innovative Medicine established the Miller Coulson Academy of Clinical Excellence in 2008. Until the Miller Coulson Academy, there was general skepticism that clinical excellence could be measured in a clear and consistent way. By developing a truly rigorous process for measuring excellence in clinical care, CIM really made a mark — at Johns Hopkins and on the national level.
As the Miller Coulson Academy advanced, we were able to use its groundbreaking work as part of our rationale in our presentation to school of medicine leaders that yes, we do know how to measure clinical excellence fairly and to create a rigorous promotional pathway. Without the Miller Coulson Academy, we never would have been able to successfully make that argument.
What does the new faculty promotion track mean for Johns Hopkins Medicine?
For the first time in 125 years, we can put a point of emphasis on the patient care aspect of our tripartite mission. Outstanding faculty members who are passionate about providing the best of the best in patient care can now be recognized with a clear career path forward. The new track will make it possible to recruit and retain the nation's top clinicians. It's going to make us immensely better as an institution.
Your efforts were key to establishing a community for retired faculty members as a way of supporting their continued research, teaching and service. The Academy at Johns Hopkins, East Baltimore Campus is now thriving, with 140 active members. What inspired your efforts?
This project is very close to my heart, and the inspiration came years ago when I had a conversation with a revered member of the faculty who had just retired. He said it felt like he had been pushed off a cliff. He had been an influential leader for 40 years and suddenly, he was irrelevant. I thought: There has to be a way to keep long-time faculty connected after they retire — with each other and with Johns Hopkins — and to tap into their wisdom and experience to benefit students, patients and Johns Hopkins, through teaching and mentoring.
The Academy at Johns Hopkins does just that. The retirees who participate have intellectual stamina; they are still gung-ho about their medical or scientific discipline and about engaging with their community. Why in the world wouldn't we want to harness that brain trust — of people who love Johns Hopkins and care about making a difference in the world?
"For the first time in 125 years, we can put a point of emphasis on the patient care aspect of our tripartite mission."
Could we conclude by briefly discussing your work with "pyramid grants" at Johns Hopkins Bayview — and how this approach will be wrapped into CIM's new Initiative to Humanize Medicine?
The idea behind the pyramid grants is straightforward: Twice a year, we encouraged staff and faculty members to come up with inexpensive ways they could improve life for their patients and then submit a simple proposal for funding. This was open to everyone on the care team: doctors, nurses, techs, custodians. The novelty was that it was a totally grassroots idea with no bureaucracy involved. Each year, we funded six to seven projects, with funding ranging from $200 to $2,000.
Some were simple: I'd like a blanket warmer for my patients. Or: We need a basket of books and toys in our waiting room to keep kids occupied while their parents get treatment. One of my favorite proposals came from some staff in the chronic ventilator unit who wanted to improve the experience for patients on ventilators. They used their funds to install panels of peaceful scenes on the ceiling.
This is a wonderful example of humanizing medicine. Of asking people who deal directly with patients to identify ways to improve those patients' lives — and then to give those caregivers the autonomy and resources they need to make that change. We're planning to start a similar pyramid grant approach across Bayview and Johns Hopkins Hospital as part of the CIM's Initiative to Humanize Medicine.
BACK TO TOP