Alerting to the Dangers of E-Cigarettes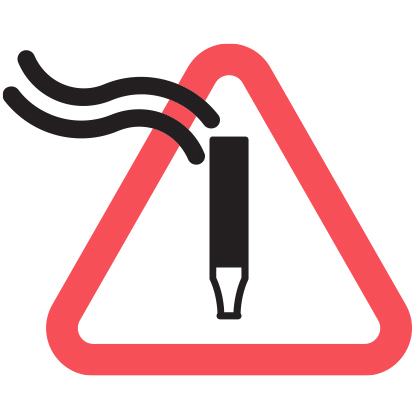 As the COVID-19 crisis unfolded this winter and spring, doctors warned that people with underlying health issues, particularly lung or pulmonary problems, were at much higher risk for serious illness or death should they come down with the virus.
Such warnings gave grim urgency to the work of Panagis Galiatsatos, the CIM Aliki Perroti Scholar, and his colleagues at Johns Hopkins' Tobacco Treatment Clinic at Johns Hopkins Bayview Medical Center.
"We're combating the one thing that kills more people than gun violence and opioid misuse combined," says Galiatsatos, who is co-director of Medicine for the Greater Good, an important initiative of the Center for Innovative Medicine.
Indeed, smoking use causes more than 480,000 deaths per year in the United States, about one in five deaths annually, according to the U.S. Centers for Disease Control and Prevention. More than 16 million Americans are living with a disease caused by smoking.
In recent months, Galiatsatos has been campaigning tirelessly about the health consequences of electronic cigarettes in particular. "There is this misguided notion that e-cigarettes are a 'safe' alternative to traditional combustible cigarettes," but that couldn't be further from the truth, he says. "Our patients have no idea that e-cigarettes can cause refractory asthma or any pulmonary disease out there. They are coming into our clinic feeling like they have been duped. And they have been!"
"We're combating the one thing that kills more people than gun violence and opioid misuse combined." – Panagis Galiatsatos
E-cigarette use has seen a surge in popularity, particularly among younger generations, which has Galiatsatos and his colleagues very worried, for a number of reasons.
Top among those reasons: Since e-cigarettes are not regulated by the U.S. Food and Drug Administration, it's impossible for Galiatsatos and other doctors to know just what their patients are inhaling.
This issue came most acutely to the fore last spring and summer, when hundreds of people who vaped suffered serious lung injury (and several dozen died) due to what was eventually discovered to be the injurious effects of vitamin E acetate.
The lack of regulation also makes it harder to counter nicotine addiction, says Galiatsatos. With traditional cigarettes, he says, "when a patient comes in who is addicted to nicotine, I'll ask what brand they are smoking, and then I can figure out exactly how much tar, nicotine and other chemicals are in those cigarettes. We can create an individualized plan to help them manage their cessation efforts. But with e-cigarettes, all bets are off. I can't tell them what chemicals they are dealing with, and it's very difficult to develop a targeted treatment plan for their addiction. It's like throwing antibiotics at a patient without knowing their infection."
Galiatsatos also has growing concerns about the health risks of secondhand smoke from e-cigarettes. "In our clinic at Johns Hopkins, we have documented the first case of secondhand smoke from e-cigarettes causing pulmonary disease," he says. The case study was published in March in The BMJ, and he hopes it will ring a warning bell in the medical community about a looming public health problem that is currently going relatively unnoticed.
Among high school students, the rate of e-cigarette use has grown at an alarming pace, with more than one in four students reporting that they use these products, according to preliminary results from the U.S. Centers for Disease Control and Prevention's 2019 National Youth Tobacco Survey.
Reaching this audience – with accurate and compelling information about the risks of e-cigarette use and the dangers of secondhand smoke – is critical, says Galiatsatos. Toward that end, Medicine for the Greater Good has partnered with the American Lung Association and the Baltimore Breathe Center (also a part of Johns Hopkins Medicine) to create the Lung Health Ambassadors initiative for teens across the state.
This year, 341 students are participating in the program, at Armistead Gardens and Maree G. Farring elementary/middle schools in Baltimore City as well as Golden Ring Middle and Overlea High schools in Baltimore County. The program has also reached students in both St. Mary's and Calvert county schools.
"We teach them that the only thing that should be going into their lungs is air. That can be really hard for them if they have family that smoke on a regular basis." – Jocelyn Rubin
The Lung Health Ambassadors initiative uses hands-on projects in the classroom, such as constructing models of lungs from balloons, straws and tape, to show the consequences that e-cigarette use can have on the lungs. It also encourages students to raise awareness with their peers and families of the danger of e-cigarettes and trains them to manage peer pressure. Students participate in five one-hour sessions over the academic year, culminating with a graduation from the program.
"We teach them that the only thing that should be going into their lungs is air," says Jocelyn Rubin, an M.S.N. Entry into Nursing Program student at Johns Hopkins. "That can be really hard for them if they have family that smoke on a regular basis. I think it's brave of them to go back to their family members and share what they've learned. It's exciting to know that they're the ones who are going to make a difference."
Galiatsatos is particularly excited about the peer-to-peer aspect of the Lung Ambassadors program. The students learn how to launch anti-vaping campaigns using social media and even podcasts. These and other communication efforts will be vital to stemming the tide of e-cigarette use, he says. "This epidemic is not something we can sit and expect public policy alone to handle, because it won't," says Galiatsatos.
"Just look at our history," he says. "Cigarettes were first linked to lung cancer in 1964, but significant government restrictions on cigarette use did not occur until 1995. My heart will sink if a new generation of young people has their health robbed because we as physicians did nothing to stop the misinformation being thrown around. We need to act."
In January, Galiatsatos was interviewed for a health information segment about e-cigarettes for Good Morning America, and he's also been interviewed on CNN and CNBC.
That same month, the U.S. Food and Drug Administration issued a ban on fruit- and mint-flavored products used in e-cigarettes and vaping products, targeting companies that market to youth.
While buoyed by that move, Galiatsatos says that in the months ahead, he will continue to pursue every possible forum to push for better regulation of e-cigarettes and to communicate the health dangers they pose. "This," he says, "is my passion."
BACK TO TOP