Ensuring a Long and Healthy Life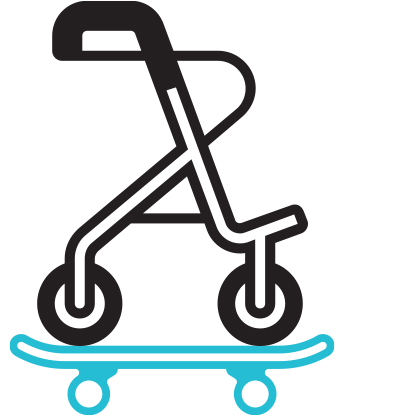 The United States is on the verge of a demographic shift that is nothing short of seismic. By 2030, all baby boomers will be older than 65, which means that 1 in every 5 people will be of retirement age, according to projections of the U.S. Census Bureau.
Put another way: Within just a couple decades, older people are projected to outnumber children for the first time in U.S. history.
The massive graying of the population is bringing a host of health issues, notes geriatrician Jeremy Walston, the Raymond and Anna Lublin Professor of Geriatric Medicine and the Salisbury Family CIM Scholar. "We've gotten better and better at treating chronic disease, so that many people now live through their 60s and 70s and into their 80s, 90s and beyond. But they become increasingly disabled as they age, suffering muscle loss, falls and cognitive decline, among other things," he says.
"Since this is the fastest growing segment of our population, it's crucial that we identify interventions to improve quality of life and increase resilience, strength and vigor in our oldest patients," notes Walston, who is also co-director of the Biology of Healthy Aging program at the Johns Hopkins School of Medicine.
Fortunately, he and a team of geriatricians and researchers at Johns Hopkins Bayview Medical Center are perfectly poised to do just that, thanks to impressive resources (see sidebar) – including donor and federal grant support – that have been coalescing and are expected to expand even more in the years ahead.
The ultimate goal, says Walston: to make Johns Hopkins Bayview the epicenter – nationally and even globally – for research and health care related to ensuring a long and healthy life for all.
Building Resiliency and Reducing Frailty
Thanks to multimillion-dollar funding from three different federal grants, researchers at Johns Hopkins Bayview are already well underway in their quest to improve life for the aged.
In one promising area of study, scientists are looking at the biological underpinnings of resilience to figure out why some older patients bounce back relatively quickly after medical procedures, while others fail to recover and instead experience a cascade of complications.
"We believe there are underlying biological triggers, related to the stress response systems in the body, that make older adults more or less resilient," says Walston. Now in the second year of a five-year $11.5 million grant from the National Institutes of Health (NIH), he and his team have begun recruiting older patients who are undergoing one of three procedures: knee replacement, hemodialysis or bone marrow transplant.
"We are studying patients who bounce back and those who don't to identify biological differences between the groups," says Walston. Based on an earlier research program funded by Mr. and Mrs. Charles H. Salisbury, he believes that an overactive inflammatory system may be part of the reason that some people don't recover well.
"The Salisbury's philanthropy was critical in allowing us to put the necessary clinical and laboratory infrastructure in place in order to better compete for this NIH grant," says Walston.
If his hypothesis does pan out, then scientists could potentially develop methods to modify that inflammation response in susceptible patients before they undergo a medical procedure. Taking an even longer view: Identifying the biological underpinnings of resilience could hold the key to keeping stress response systems intact and operating more optimally as we age.
"Here at Johns Hopkins Bayview, we stand on the threshold of becoming the center for aging-related advances. We've got the talent, the pipeline of high-quality trainees, the infrastructure, and a vision that has set the stage for the next big findings that will help older adults live an even longer and healthier life." – Jeremy Walston
In a related area of inquiry, Johns Hopkins researchers are continuing their work on the causes of frailty, a syndrome marked by unintended weight loss, weakness, fatigue, slow speed and low physical activity. Frailty predicts very high risk for medical and surgical complications, hospitalizations and death.
The NIH recently renewed a five-year $6 million grant that funds the work of the Johns Hopkins Claude D. Pepper Older Americans Independence Center, a federally designated center of excellence at Bayview that is supported by the National Institutes on Aging.
"Investigators in our center continue to focus on a common biological pathway that influences both age-related changes in the energy production of mitochondria (the energy 'powerhouses' of cells) and on the decline of skeletal muscle," Walston says. "Their findings have helped put into motion an important novel treatment for chronic wounds
in older adults that is now in development for human studies."
How Old Are Your Cells?
This fall, Walston and collaborators at the Johns Hopkins Whiting School of Engineering and Bloomberg School of Public Health secured a $3.5 million NIH grant to fund their efforts to develop cellular biomarkers for aging.
This work builds on attention-grabbing findings, published recently in Nature Biomedical Engineering, in which the Johns Hopkins team led by Denis Wirtz, vice provost for research at Johns Hopkins, reported a method to accurately determine the age of cells based on their physical properties.
They found that their novel methodology very closely tracked with age. The team believes that these new measurement technologies will be quite good at identifying middle-age and younger adults who are at high risk of developing some chronic diseases, and perhaps of aging at an accelerated rate.
Walston is very excited about this new area of research. The findings to come, he hopes, could one day help clinicians see aging in cells before a patient begins to experience age-related health decline. This would offer doctors an opportunity to recommend treatments or changes in lifestyle, such as exercise or diet changes, or specifically targeted biological agents, to stave off cellular aging and prevent chronic disease.
Pointing to this latest vein of research, and to all the clinicians, scientists, clinics and programs aligned at Johns Hopkins Bayview to improve care for older adults, Walston says, optimistically, "Here at Johns Hopkins Bayview, we stand on the threshold of becoming the center for aging-related advances. We've got the talent, the pipeline of high-quality trainees, the infrastructure, and a vision that has set the stage for the next big findings that will help older adults live an even longer and healthier life."
BACK TO TOP