Investing in 'Genius'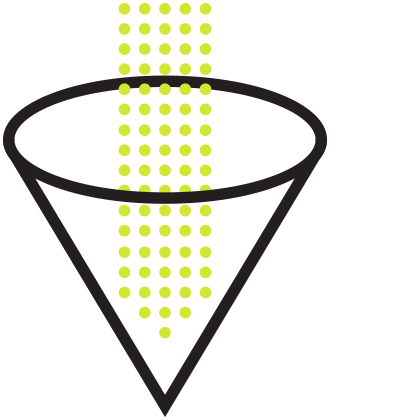 Most kids bounce back from a bout with a sore throat or a cold within a week. But not Tara Sakraida Parker. Throughout her childhood years growing up in Oregon, she was chronically sick – with tonsillitis, sinusitis and ear infections. At age 11, a virus robbed her of her hearing in her left ear. In her 20s, she had her tonsils removed – twice, after tissue grew back following her first surgery. "I have taken a lot of antibiotics over my lifetime," she says today. Then, in April 2015, a virus attacked her central nervous system, landing her in the hospital for over a week, followed by a long and arduous recovery.
Over the years, even as she built a highly successful career as a real estate attorney and then as a director of gift planning and major gifts at UCLA, Sakraida Parker saw doctor after doctor and underwent test after test. No one could definitively figure out what was plaguing her. Until a momentous afternoon in October 2016, when she sat down with Johns Hopkins immunologist Antoine Azar.
"He spent three hours with me, taking my medical history, my family's medical history, asking me details about things no doctor had ever asked about before," she recalls. "Then he ordered a bunch of tests – some really weird tests." The upshot of Azar's detective work? "It turns out that I have a severe deficiency of natural killer (NK) cells. I have what is known as adult primary immunodeficiency" – a group of disorders that affect one or more parts of the immune system, says Sakraida Parker.
In the months after her diagnosis, Sakraida Parker grew increasingly impressed with Azar's keen medical acumen and caring bedside manner, and by his desire to build a center for adult primary immunodeficiency (API).
"I am on a focused mission to help Antoine launch this center at Johns Hopkins. I deeply believe in his work and in him." – Tara Sakraida Parker
Until now, this condition has gotten very little attention in the medical community, leaving patients like Sakraida Parker without a proper diagnosis or effective treatment. "I am on a focused mission to help Antoine launch this center at Johns Hopkins. I deeply believe in his work and in him," says Sakraida Parker.
"This is not the kind of work that gets funding from the National Institutes of Health. So Tara's support comes at an especially crucial time for me." – Antoine Azar
So she and her husband have generously funded a multiyear gift to make Azar a Scholar of the Center for Innovative Medicine – funding that is allowing Azar to treat patients with this complex condition and build the Adult Primary Immunodeficiency Center at Johns Hopkins. Azar's goal: to make the center a global hub for research and clinical care for API.
"Patients with primary immunodeficiency can go for years being sick, without receiving a diagnosis, and there are very few centers in the country that are focused on adult PI, though these are disorders that are more common than we used to think," says Azar. "Philanthropic support allows us to build a clinical infrastructure so these patients can receive the most optimal care possible.
"I am so grateful to be the Tara Sakraida Parker and Richard Parker CIM Scholar," he says. "This is not the kind of work that gets funding from the National Institutes of Health. So Tara's support comes at an especially crucial time for me."
Creativity and Potential
CIM Director David Hellmann likens Azar's funding to a prestigious MacArthur Fellowship, or "genius grant." MacArthur awards are so-named because they reward those who have shown "extraordinary originality and dedication in their creative pursuit," according to the John D. and Catherine T. MacArthur Foundation. Perhaps most crucially, the MacArthur Fellowship is not a reward for past accomplishment, but is rather "an investment in a person's originality, insight and potential."
In today's current funding climate, it is more difficult than ever for junior researchers to earn grants from the National Institutes of Health and other agencies and foundations. With ever-tightening budgets, the funding that is available is typically awarded to senior scholars with a proven track record. They are considered the "safe bets." This effectively squeezes out younger scientists who are in the early or middle phases of their careers.
"We should be supporting faculty members at this stage, precisely when they are thinking and working most creatively." – David Hellmann
"That's really unfortunate, considering most of the greatest biomedical breakthroughs have come from young scientists," says Hellmann. It's worth noting, for example, that nearly every Nobel Prize has been awarded to work that was started early in a researcher's career. "We should be supporting faculty members at this stage, precisely when they are thinking and working most creatively," he says.
Over the past decade, generous donors to the Center for Innovative Medicine have on average provided funding to establish two new CIM faculty scholars each year. Among them:
At the Amos Center for Food, Body and Mind, two Amos Center CIM Scholars – neuro-gastroenterologist Pankaj "Jay" Pasricha and psychiatrist Glenn Treisman – are leading efforts to study links between diet and disease, and also the role of good and bad bacteria in making us sick and keeping us healthy. The center, established with the help of a generous gift provided by Mrs. Courtney Amos and Mr. Paul S. Amos, is one of the few such centers in the world pursuing this important line of inquiry.
Co-founder and co-director of Medicine for the Greater Good, Panagis Galiatsatos, is the Aliki Perroti CIM Scholar. Similar to a "medical Peace Corps," Medicine for the Greater Good is a unique partnership between Johns Hopkins, the city of Baltimore and its citizens that is training medical residents to bridge the gap in health disparities. Volunteers – from medicine, nursing, public health and other parts of Johns Hopkins – work with schools, churches and community centers to promote good health practices through discussions about diabetes, high blood pressure, cancer screening, diet and exercise.
Cynthia Boyd, a Lavinia Currier CIM Scholar, is charting new paths in the health care of chronically ill and frail older adults. While aging patients typically have to deal with three or more distinct and often chronic health conditions, our medical system is currently based on a single disease model. Boyd is leading national efforts to create medical guidelines to ensure effective patient-centered care for the growing population of patients with "co-morbidities." Nadia Hansel, who is also a Lavinia Currier CIM Scholar and acting chief of the Division of Pulmonary and director of the Obstructive Lung Disease Research Group, is focused on finding genetic and environmental determinants of obstructive airway diseases. Jonathan Zenilman, the third Lavinia Currier CIM Scholar, is chief of the Division of Infectious Diseases at Bayview. He is internationally known for his work in infectious disease epidemiology, and his current research examines the rise of antibiotic-resistant illnesses in developing nations.
"Imagine the multiplier effect we could have if we expand the number of new CIM Scholars from two to 10 or more each year!" – David Hellmann
"The work that our CIM Scholars are doing to improve patient care and find answers to vexing health issues is nothing short of amazing," says Hellmann. Buoyed by the success of the existing CIM Scholars, he has an ambitious goal: to significantly expand the number of "genius grants" that are awarded each year to Johns Hopkins' most promising faculty members.
"For every Antoine Azar who is changing the medical world and transforming patient lives, there are dozens more incredibly talented faculty members at Johns Hopkins who are struggling to find the funding they need to pursue their promising ideas," says Hellmann. "Imagine the multiplier effect we could have if we expand the number of new CIM Scholars from two to 10 or more each year!"
A Boost for Medicine at the Bedside
Susan Immelt is a believer.
A longtime pediatric nurse at Johns Hopkins who retired in 2012, Immelt is the daughter of the late Douglas Gordon Carroll Jr., who launched the Department of Rehabilitation Medicine at Baltimore City Hospitals (which later became Johns Hopkins Bayview Medical Center) and who enjoyed a long and esteemed career at Johns Hopkins, where his portrait now hangs.
Immelt was looking to make a gift in her father's memory – Carroll died in 1977 – when Hellmann introduced her to Brian Garibaldi, associate program director of the Osler Medical Residency Training Program. "I found Dr. Garibaldi to be like my dad in many ways," she says. "He is very curious and extremely oriented to the patient experience."
Indeed, Garibaldi is co-president of the Society of Bedside Medicine, a group he helped launch in response to growing concern that physicians are spending less and less time with patients – as little as 12 percent of their time, according to some studies. One resulting casualty has been a decline in skills needed for the physical exam, he says – a practice "that plays an integral role in developing a meaningful and therapeutic relationship."
Concerned by the lack of existing residency training curricula for physical exams, Garibaldi and his colleagues have crafted an intervention called Advancing Bedside Cardiopulmonary Examination Skills (ACE), which is already improving attitudes, confidence and skill among residents at The Johns Hopkins Hospital.
Garibaldi, with colleagues Gigi Liu and Timothy Niessen, is also pioneering the use of "point-of-care" (POC) ultrasounds at the bedside. It is this concept that excited Immelt and inspired her to fund Garibaldi as the Douglas Carroll, MD, CIM Scholar.
"There was a lot going on in rehabilitation technology when my dad was practicing, and I feel like this little gadget that Brian is working on is something that Dad would have found very cool," says Immelt. "I'm convinced it will be very useful in nursing,
as well."
The "little gadget" is a handheld ultrasound that examining doctors can use at the bedside. "We're finding this opens up communication between doctor and patient," explains Garibaldi. "We can point to fluid that's accumulated and say, 'This is what a sick heart looks like – this is why you have this symptom. Or, here is how you know that your medication is actually working.' It engages patients in becoming more motivated to get better, and it allows medical residents to have these eureka
moments of shared discovery with their patients."
Garibaldi says his funding as the Douglas Carroll, MD, CIM Scholar came at just the right time. It will allow him and his colleagues to build upon ACE, the bedside training curricula, expanding it to include the residency program at Johns Hopkins Bayview and beyond. And he has plans to make POC ultrasound more widely available, by first conducting studies to show its efficacy for patients and in physician training.
"The beauty of this CIM Scholarship is that it will fund my work over a three- to five-year period, which is critical to someone like me at the early stage of my career." – Brian Garibaldi
"The beauty of this CIM Scholarship is that it will fund my work over a three- to five-year period, which is critical to someone like me at the early stage of my career," says Garibaldi. "So many grants today are limited in time and scope – you receive X amount of money to accomplish X, Y, and Z within a year. Without sustained funding, you have to spend more time looking for your next grant than doing the work you need to do to show the long-term impact of your ideas."
For her part, Immelt hopes that the scholarship she and her husband funded in her father's honor will inspire others to support the work of CIM faculty – and inspire early- and mid-career faculty members, as well: "I hope this encourages other young clinicians coming along to know, 'Wow! I can get funding for projects I am passionate about. I don't have to wait until I'm a senior faculty member who has proven myself in many different areas."
Don Willett November 11th, 2018
Posted In: