Keep up to date with everything happening at the Johns Hopkins CIM!
March 2018
This month, we'd like to talk about our Miller Coulson Academy for Clinical Excellence. In the decade since the Miller Coulson Academy began, its impact has grown year by year—from Johns Hopkins Bayview to Johns Hopkins Hospital and then inspired institutions far away from Baltimore, including Columbia University, to form similar organizations. Because the Miller Coulson Academy is a "working academy," these exemplary doctors come together to collaborate on programs and initiatives.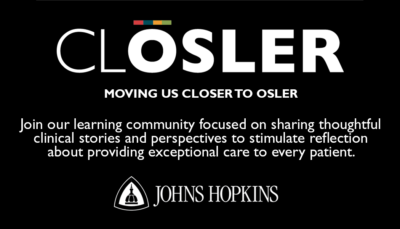 All the way back in January 2017, the very first proposal for CLOSLER was put together. From there, a team of faculty and staff at Johns Hopkins came together to create a website dedicated to clinical excellence. Fast forward to just this month, CLOSLER.org went live. Content on CLOSLER is organized into four different domains of clinical excellence. These include connecting with patients, clinical reasoning, passion in the medical profession, and lifelong learning in clinical excellence. The goal of this MCACE initiative is to make knowledge about clinical excellence available to the entire world. While we have many fantastic mentors at Hopkins, we want to share their expertise with every medical student, resident, and physician looking to sharpen their skills. In the words of Miller Coulson Academy Director, Dr. Scott Wright, "we want to help doctors everywhere become 1% better each and every day they visit the site."
CLOSLER also has a dynamic social media presence, striving to reach audiences across different platforms. You can look for them on Twitter, Instagram, Facebook, and LinkedIn.
Changing gears now, we're also getting ready for the Spring Research Networking Happy Hour. Held by the Bayview Scientific Advisory Board and Vice Dean's Office, these events are meant to bring faculty and researchers from different disciplines together to make connections and learn about each other's work. There's still time to RSVP if you would like to attend! Please see below for the full details.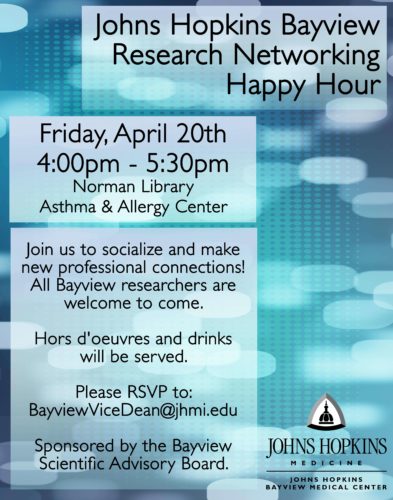 February 2018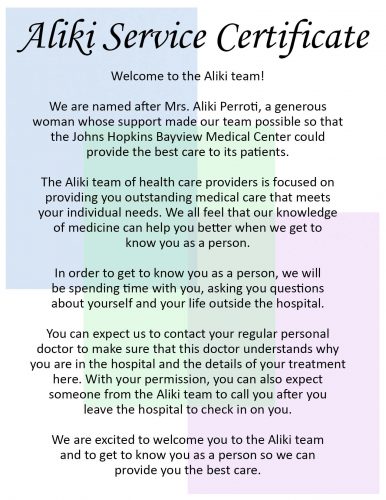 Our Aliki Initiative continues to run strong here at Bayview. With the core team meeting weekly, they continue to seek out new ways to develop the trusting relationships between doctors and patients. The Initiative was recently written about in the Hopkins Medicine blog by David Glenn. If you'd like to find out more about the history and accomplishments of the Initiative, you can click here to read more.
In the wards, we've taken a new step to ensure that Aliki patients know that they're getting special care. By connecting with the nurse attending, we've started issuing certificates to patients to let them know that their care pipeline is a little bit different than the standard routine. By letting them know what to expect with follow up calls and hospital physicians connecting with primary care providers, patients are more aware and in the loop about the therapies planned as a part of their recovery.
In other CIM news, our Lyft Pilot Program continues is still rolling here in the new year. With over 140 students enrolled and traveling between Homewood and Bayview, we are continuing the pilot until the end of the fiscal year on June 30th. The largest obstacle between connecting willing students with the research and volunteer opportunities here at Bayview was the lack of direct transportation between the university campus and our location. Starting on Monday, July 2nd, there will be a new shuttle running between Homewood and Bayview. This will be open to all students, staff, and faculty looking for a direct connection between these locations. We hope that you're as excited as we are and we will keep you posted as more details settled about the route and pickup locations!
---
January 2018
Happy New Year from CIM!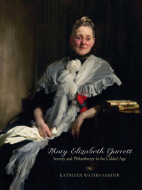 We've got a lot of exciting anniversaries happening this year. With the School of Medicine's 125th birthday upon us, we're thinking about the key figures who made Johns Hopkins what it is today. Beyond its famous founders, we're also celebrating Mary Elizabeth Garrett, a woman with brilliant ideas who set the framework for modern standards of medical school admissions requirements. We're inviting Kathleen Waters Sander, PhD, to Bayview to discuss her book, Mary Elizabeth Garrett: Society and Philanthropy in the Gilded Age. In the meantime, we'll be avidly reading.
Next, our very own Miller Coulson Academy of Clinical Excellence is also reaching its ten year anniversary. We have a lot planned, but the most exciting part of what is to come would have to be CLOSLER. This initiative is all about fostering a culture of clinical excellence and sharing it with a broader audience. For now, look forward to launch in March 2018 and check out this video teaser!
This month, our friends in Rheumatology decided to take a very different route to team building exercises. They didn't simply have a lunch together or do a workshop – they formed a choir. Every Friday, they've come together to practice singing a South African hymn called "Ukuthula". Utilizing the unique voice of each person, they brought faculty and staff from different backgrounds together to do something creative.
BACK TO TOP