Keep up to date with everything happening at the Johns Hopkins CIM!
June 2018
The summer months mark a lull in activity for many university organizations, but not for us. Since the inception of the Lyft Pilot Program last summer, we have been busily advocating for a shuttle route between Johns Hopkins Homewood and Bayview. With its inaugural voyage on July 2nd, the schedule and pick up locations for the shuttle are now available online.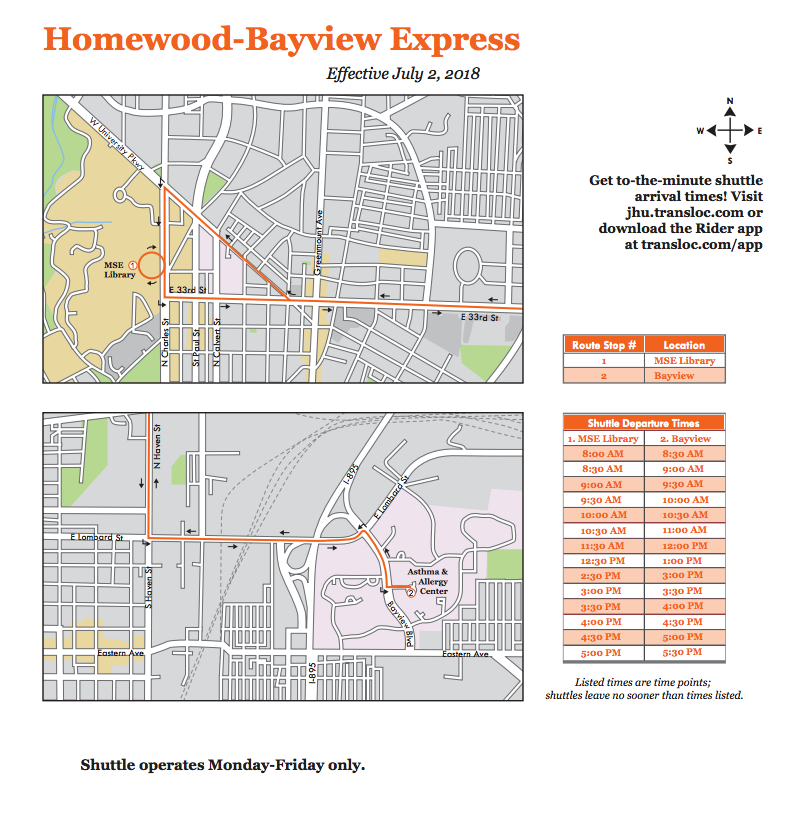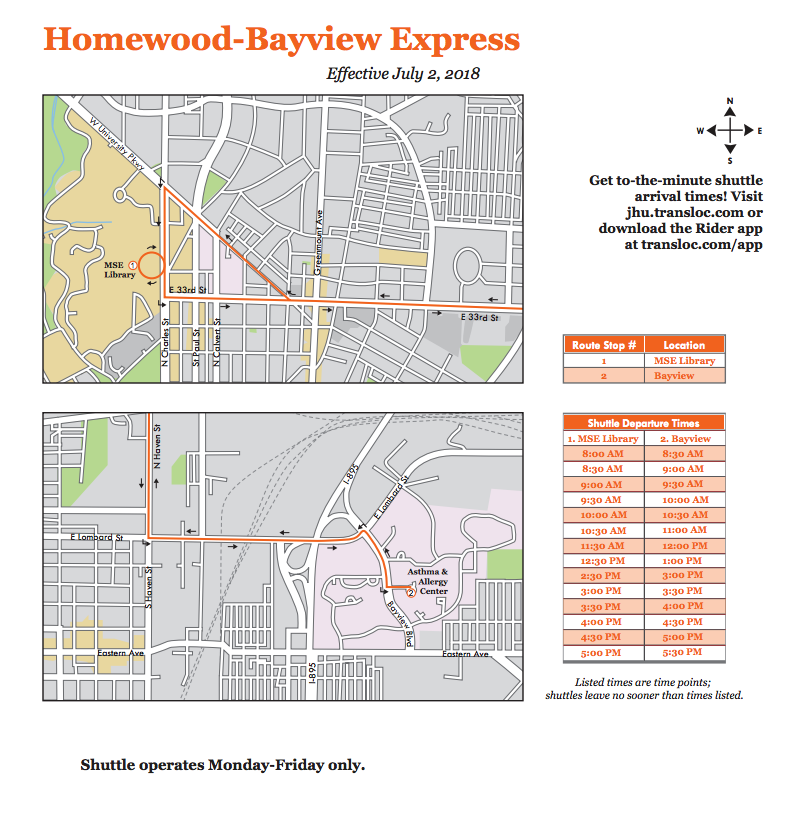 The Homewood-Bayview Express is a Blue Jay shuttle and it is open to all students, faculty and staff looking to travel between locations. The Lyft Program brought over 140 students to Bayview to assist with research and help patients, while the new shuttle will allow even more to come. The shuttle runs from 8am to 5:30pm Monday through Friday.
Turning the lens back on CIM, on June 26th, we had Dr. Alexander Billioux from the Centers for Medicare and Medicaid Services come to present to Bayview leadership. At CMS, Dr. Billioux, formerly a resident here at Hopkins, is the Director of the Division of Population Health Incentives and Infrastructure. Essentially, his focus is on the people and the community. During his presentation, he explained how approaches to improving population health must always be examined, built and sometimes restructured in order to make a significant impact.
In our own efforts toward improving community health in Baltimore, Medicine for the Greater Good is preparing for their annual healthy school year events. There will be informational sessions on asthma and distribution of backpacks filled with school supplies for children in need.  We don't forget about the parents either – Hopkins faculty and students go out and address the entire family with advice on preventing health problems common in adults as well.
We're also busily getting ready for the CIM Retreat at the end of August. All CIM members are welcome to the home of CIM Board Chair, Stephanie Cooper Greenberg, in the rural farmlands with us to brainstorm how we're moving forward. We have some great accomplishments to show since our last retreat in 2017, but with every year, we strive to expand our reach. We've sent invitations out and hope that you're all looking forward to it!
May 2018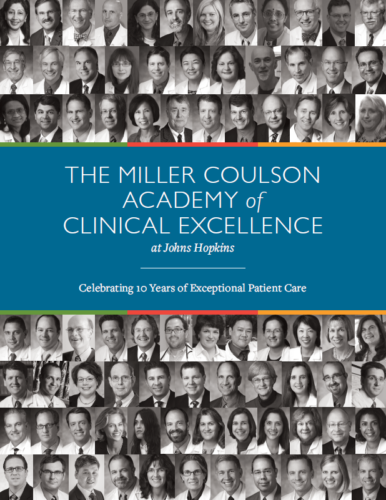 To celebrate the monumental ten year anniversary of the Miller Coulson Academy of Clinical Excellence, we put together a magazine to honor all of the clinicians inducted over the last decade. In this magazine, you can learn all about history of the academy, the donors who made it possible, the way members stand out, and a touching story of how academy members collaborated to save a little girl's life. On page 14, you'll read how Academy members from different disciplines worked together to help Reese Burdette after being badly burned in a fire, and went the extra mile to help her recover. She spent two years receiving treatment at Johns Hopkins, but once she was stable and walking, her family brought her pet cow to Baltimore to come visit her since she could not yet leave the hospital.
We've got hard copies of the celebratory magazine on news racks all over Johns Hopkins Bayview, but we're also making it available here on our website for your reading convenience. You can read more by clicking here or on the cover of the magazine.  Enjoy!
Continuing the MCACE news, we held the 15th Annual Miller Lecture on May 15th and welcomed Dr. Richard J. Baron of the American board of Internal medicine and ABIM Foundation to Bayview. He was greeted by a full house of attendees, including the Millers themselves, namesakes of the lecture. He discussed how broad social changes in trust and authority are having an impact on health care, sharing startling data on how there's been a decline in patients trusting their doctors.  He attributes this to a predicament widely faced in medicine – the profession seeking to maintain legitimacy and credibility with patients. This discussion linked in well with CIM's goal of making medicine a better public trust and despite these challenges, we'll continue to keep working toward making medicine approachable, trustworthy, and available.
April 2018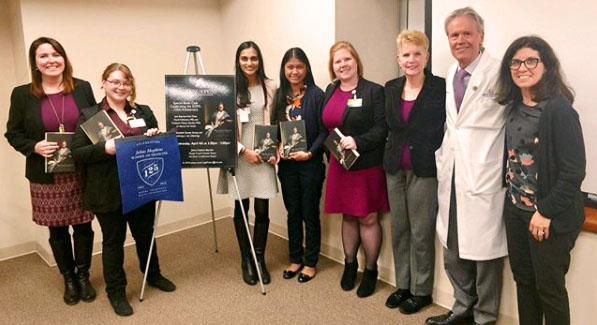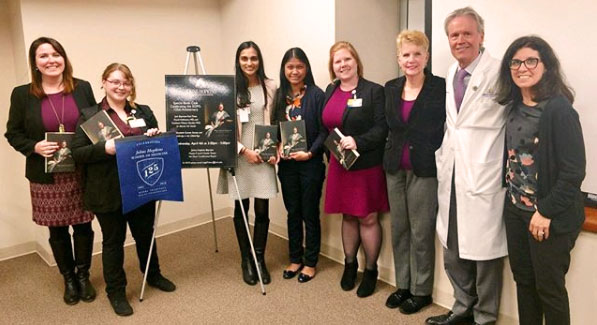 On April 4th, we had Kathleen Waters Sander come to Bayview to share her book Mary Elizabeth Garrett: Society and Philanthropy in the Gilded Age. This event is part of our larger goal this year of celebrating the 125 Year Anniversary of the School of Medicine. Dr. Sander explained what the writing process was like, the challenges she faced when researching Garrett, and also what inspired her to resurrect this key figure from Hopkins history and shed light on her. She told us how in years of working at Hopkins, she would see tiny glimpses of things that spoke of Garrett, but nothing that told the entire story of Garrett's life.
As Garrett was born in an era when women were often overlooked, this was not terribly uncommon. Garrett thoughtful philanthropist made significant contributions to the creation and high standards of Johns Hopkins medical education. She also, of course, insisted that women be allowed to apply to the medical school.
Moving forward in the month, we also had the Miller Coulson Academy Induction Ceremony. The academy's mission is to recognize and promote excellence in patient care for the benefit of the individuals and communities that we serve. Doctors can only be considered for this award if they are nominated by their colleagues for it. This year, the numbers were staggering – there were 684 different people who submitted nominations. Out of those, 112 unique clinicians were nominated. Narrowing things down further, 31 clinicians were recommended by more than 7 individuals. The numbers get a bit complicated, but it speaks to the merit of these doctors that they each received so many nominations.
From there, doctors are invited to apply. The must put together a clinical portfolio, showing their values, roles, their commitment to their growth as a clinician, clinical presentations and publications, quality improvement initiatives, and much more. The applications are generally greater than 65 pages long and are then reviewed by both internal and external committees to ensure an honest and unbiased selection process. These standards have been upheld over the last ten years, making the Miller Coulson Academy a group of clinicians with distinction.
March 2018
This month, we'd like to talk about our Miller Coulson Academy for Clinical Excellence. In the decade since the Miller Coulson Academy began, its impact has grown year by year—from Johns Hopkins Bayview to Johns Hopkins Hospital and then inspired institutions far away from Baltimore, including Columbia University, to form similar organizations. Because the Miller Coulson Academy is a "working academy," these exemplary doctors come together to collaborate on programs and initiatives.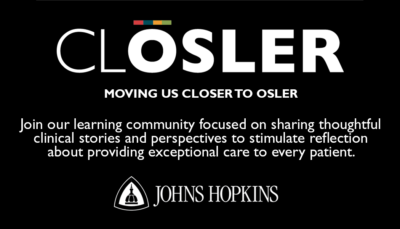 All the way back in January 2017, the very first proposal for CLOSLER was put together. From there, a team of faculty and staff at Johns Hopkins came together to create a website dedicated to clinical excellence. Fast forward to just this month, CLOSLER.org went live. Content on CLOSLER is organized into four different domains of clinical excellence. These include connecting with patients, clinical reasoning, passion in the medical profession, and lifelong learning in clinical excellence. The goal of this MCACE initiative is to make knowledge about clinical excellence available to the entire world. While we have many fantastic mentors at Hopkins, we want to share their expertise with every medical student, resident, and physician looking to sharpen their skills. In the words of Miller Coulson Academy Director, Dr. Scott Wright, "we want to help doctors everywhere become 1% better each and every day they visit the site."
CLOSLER also has a dynamic social media presence, striving to reach audiences across different platforms. You can look for them on Twitter, Instagram, Facebook, and LinkedIn.
Changing gears now, we're also getting ready for the Spring Research Networking Happy Hour. Held by the Bayview Scientific Advisory Board and Vice Dean's Office, these events are meant to bring faculty and researchers from different disciplines together to make connections and learn about each other's work. There's still time to RSVP if you would like to attend! Please see below for the full details.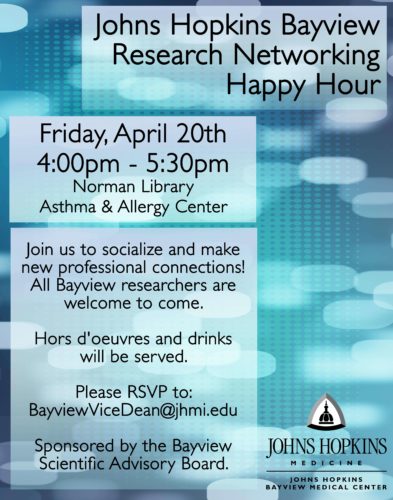 February 2018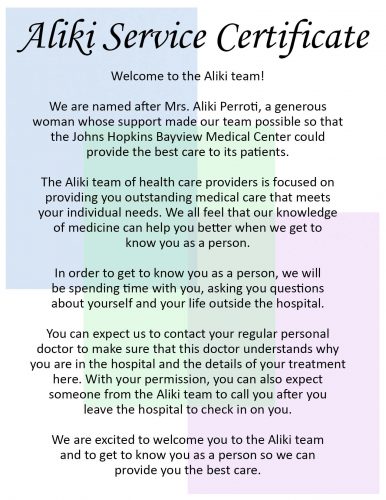 Our Aliki Initiative continues to run strong here at Bayview. With the core team meeting weekly, they continue to seek out new ways to develop the trusting relationships between doctors and patients. The Initiative was recently written about in the Hopkins Medicine blog by David Glenn. If you'd like to find out more about the history and accomplishments of the Initiative, you can click here to read more.
In the wards, we've taken a new step to ensure that Aliki patients know that they're getting special care. By connecting with the nurse attending, we've started issuing certificates to patients to let them know that their care pipeline is a little bit different than the standard routine. By letting them know what to expect with follow up calls and hospital physicians connecting with primary care providers, patients are more aware and in the loop about the therapies planned as a part of their recovery.
In other CIM news, our Lyft Pilot Program continues is still rolling here in the new year. With over 140 students enrolled and traveling between Homewood and Bayview, we are continuing the pilot until the end of the fiscal year on June 30th. The largest obstacle between connecting willing students with the research and volunteer opportunities here at Bayview was the lack of direct transportation between the university campus and our location. Starting on Monday, July 2nd, there will be a new shuttle running between Homewood and Bayview. This will be open to all students, staff, and faculty looking for a direct connection between these locations. We hope that you're as excited as we are and we will keep you posted as more details settled about the route and pickup locations!
---
January 2018
Happy New Year from CIM!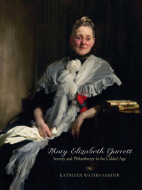 We've got a lot of exciting anniversaries happening this year. With the School of Medicine's 125th birthday upon us, we're thinking about the key figures who made Johns Hopkins what it is today. Beyond its famous founders, we're also celebrating Mary Elizabeth Garrett, a woman with brilliant ideas who set the framework for modern standards of medical school admissions requirements. We're inviting Kathleen Waters Sander, PhD, to Bayview to discuss her book, Mary Elizabeth Garrett: Society and Philanthropy in the Gilded Age. In the meantime, we'll be avidly reading.
Next, our very own Miller Coulson Academy of Clinical Excellence is also reaching its ten year anniversary. We have a lot planned, but the most exciting part of what is to come would have to be CLOSLER. This initiative is all about fostering a culture of clinical excellence and sharing it with a broader audience. For now, look forward to launch in March 2018 and check out this video teaser!
This month, our friends in Rheumatology decided to take a very different route to team building exercises. They didn't simply have a lunch together or do a workshop – they formed a choir. Every Friday, they've come together to practice singing a South African hymn called "Ukuthula". Utilizing the unique voice of each person, they brought faculty and staff from different backgrounds together to do something creative.
BACK TO TOP