Keep up to date with everything happening at the Johns Hopkins CIM!
June 2017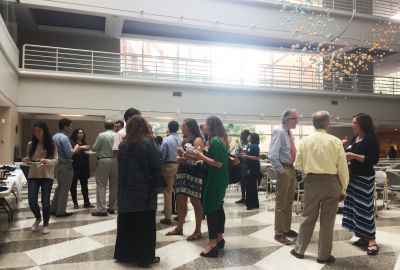 With summer upon us, the Bayview Scientific Advisory Board held its first networking event for doctors and researchers. Through the board's monthly meetings, we realized that while there are a lot of people from different disciplines doing fantastic research here at Bayview, people in different divisions seldom have the chance to connect and discuss their work.
There are the simple physical barriers, such as different divisions being in different buildings across campus, but that wasn't all. With scientists working tirelessly on their research, it's not easy to get out of the lab on short notice.
Thus we set out to start a series of events with one focus; getting researchers together for professional networking. We surveyed researchers to find the best evening for everyone to gather and set the date. The event was a success with more than fifty attendees who were all curious to know when the next date would be.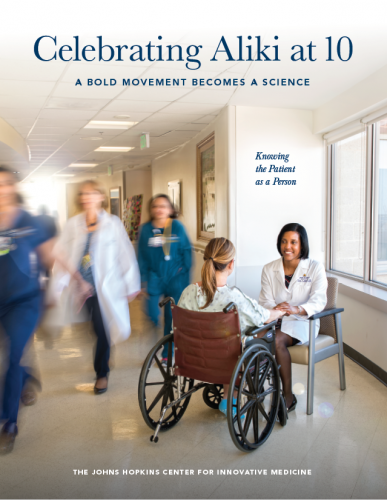 While we are happy to network with our current researchers and encourage departments to work together in new ways, we are also always committed to medical education. We are thrilled to welcome our new Internal Medicine Residents, Drs. Emily Insetta, Francoise Marvel, and Kerry Sheets.
In May, we started our commemoration of the Aliki Initiative Ten Year Anniversary with a photobook paying tribute to Mrs. Aliki Perroti. This book told the story of the initiative and its accomplishments through moments captured over the decade.
Now, we're thrilled to tell the full story and unveil Celebrating Aliki at 10: A Bold Movement Becomes a Science. This magazine covers everything from the day the initiative was born, stories of the patients our doctors have reached, and how the program continues to develop. You can read more to learn all about the initiative as well as the promise of personomics by clicking here.
May 2017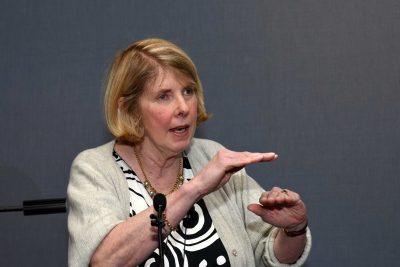 Our Miller Coulson Academy's series of events continued with the Annual Miller Lecture, presented by New York Times bestselling author Jay Redfield Jamison. The mind behind Robert Lowell: Setting the River on Fire, An Unquiet Mind, and more, Dr. Jamison came to Bayview on May 9th to discuss her books and her vast research on the connection between creativity and various psychiatric ailments, such as bipolar disorder, and manic-depressive illness.
Following the Miller Lecture, CIM member Dr. Scott Wright was installed as the inaugural The Anne Gaines and G. Thomas Miller Professorship in the Center for Innovative Medicine. An endowed professorship is the highest honor at Johns Hopkins University and we are thrilled to have Dr. Wright receive this distinction. A dedicated doctor who works constantly to help his patients and act as a mentor to other faculty members, we are proud to have Dr. Wright in the CIM and thank the Miller family for their support.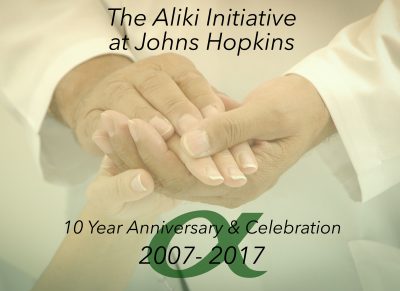 Another branch of the CIM, our Aliki Initiative, also had an active month in May. A number of our Aliki scholars and supporters traveled to New York City to have a dinner with JHU President Ron Daniels and CIM Board Member Mrs. Aliki Perroti, the movement's namesake, to celebrate the 10th anniversary of the program. This initiative is focused on one of the goals we hold dearest; knowing the patient as a person, a key component in making medicine a better public trust. When our doctors and nurses take the time to get to know their patients, a trusting relationship is forged between both parties. To mark this milestone, , we put together a commemorative photobook that looks at the first decade and what we hope to keep developing in the next ten years.
To read the book, you can click here!
April 2017
The 2017 Miller Coulson Academy of Clinical Excellence Induction Ceremony was held on Monday, April 17, 2017 at The Johns Hopkins Hospital Chevy Chase Bank Auditorium in the Sheikh Zayed Tower, where eleven of this year's inductees shared their inspirational stories about clinical excellence. Inductees are honored for their passion, professionalism, knowledge, communication skills, ability to negotiate the health care system and service as a role model to medical trainees.
The Miller Coulson Academy was established in 2006 as a part of the Center of Innovative Medicine to honor and emphasize the importance of clinical excellence – a value that remains at the core of the Johns Hopkins mission.
We would like to congratulate this year's inductees:
James H. Black, III, MD, Vascular Surgery and Endovascular Therapy
Andrea Corse, MD, Neurology and Neurosurgery
Dorianne Feldman, MD, MSPT, Physical Medicine and Rehabilitation
David Feller-Kopman, MD, Medicine, Anesthesiology, Otolaryngology – Head and Neck Surgery
Julie Hoover Fong, MD, PhD, Pediatrics, McKusick-Nathans Institute of Genetic Medicine
Sophie Lanzkron, MD, MHS, Hematology
Manisha Loss, MD, Dermatology
Sally Mitchell, MD, Interventional Radiology
William Sharfman, MD, Medical Oncology
Sharon Solomon, MD, Ophthalmology
March 2017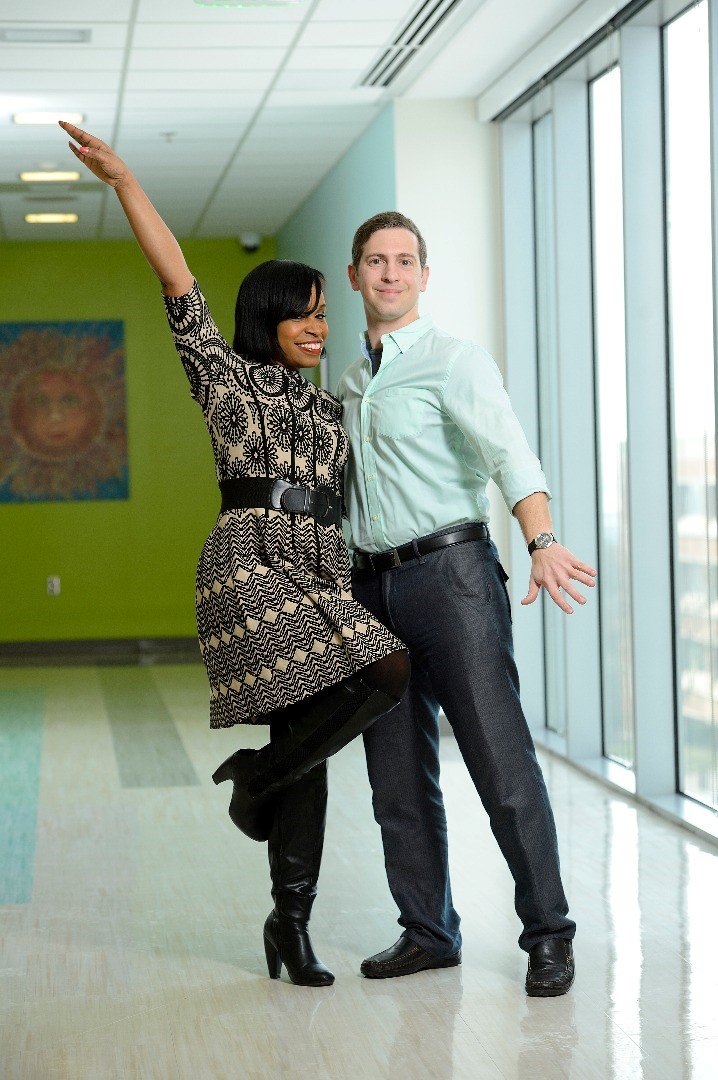 Team Bayview participated in this year's Dancing with the Hopkins Stars on March 29, as CIM member Dr. Panagis Galiatsatos and Staci Roberts danced to support a United Way charity, Access to Health Food Initiative. The two competed against seven other teams, raising money for the initiative that works to improve the quantity and quality of meals provided to low-income families in our region.  Team Bayview raised over $6,000 for their charity! To watch the talented dancers, please click here.
We are also thrilled to announce that the U.S. News & World Report recognized the Johns Hopkins School of Medicine's Division of Geriatrics and Gerontology as the number one graduate training program for preparing the next generation of physicians, scientists and professionals to better the lives of older adults. The geriatrics program has held the top spot three years running. Congrats to CIM member and Geriatrics Division Chief Dr. Chris Durso!
February 2017
The CIM International Advisory Board would like to welcome Mary Trotter, a new member of our group. Professor Trotter graduated from Vassar College and Yale Law School and has the impressive history of being one of the first female attorneys in the Enforcement Division of the Securities and Exchange Commission. In her time in academia as a professor, she has written over a dozen law review articles and played a massive role in training moot court teams for the a national competition.
In other news, the CIM website was fully overhauled last year with a new, more user friendly design. Once the redesign process was complete, we entered in the 32nd Annual Educational Advertising Awards, which are sponsored by the Higher Education Marketing Report. There were a formidable 2,250 entries from over a thousand different colleges, universities, and secondary schools and the CIM website won a Merit award for the redesign of our website. The full list of participating schools and projects can be found here.
Last but not least, the Center for Innovative Medicine is now on Twitter. Our handle there is @Hopkins_CIM and we post daily about everything going on at Johns Hopkins Bayview.
January 2017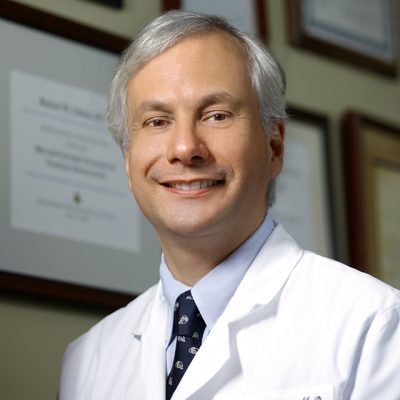 Dr. Rafael Llinas, Chair of Neurology and a member of the Center for Innovative Medicine, was named 2016 Physician of the Year.
He serves at the Johns Hopkins Bayview Medical Center and has made a tremendous impact on the campus over his years of service. He originally came to Johns Hopkins in August of 2000 and began as an Instructor of Neurology, going on to become the Neurology Residency Program Director, Associate Professor of Neurology, and his aforementioned role as the Chairman of the Department of Neurology.
Through these years at Hopkins, Dr. Llinas played a key role in establishing the Stroke Center at Bayview. This center has been recognized by the Maryland Institute for Emergency Medical Services Systems as a comprehensive stroke center. As this success suggests, his area of expertise is cerebrovascular diseases, neurology, and strokes.
Dr. Llinas is an active member of the Hopkins community who has still managed to be an author on nearly fifty publications listed in the US National Library of Medicine. His vast collection of published work shows his enthusiasm for research and making medical knowledge more widely accessible. In addition to all of his impressive accomplishments, he remains focused on making connections with his patients and explaining everything to them in a way that any ordinary person can easily understand. He is respected for his dedication to his patients and doing everything possible to help them.
To hear more of his medical insight, the interview he did in response to being chosen as the 2016 Physical of the Year can be found below.
Clinical Awards for Physicians and Care Teams
BACK TO TOP